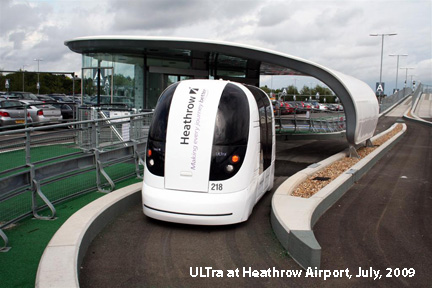 Inggris mendesain personal rapid transport (PRT) system, penumpang empat orang. Kemungkinan tahun depan sudah beroperasi/dailymail

Seperti di film-film fiksi ilmu pengetahuan, taxi tanpa sopi, tinggal pencet tombol "START" taxi jalan sendiri. Tak ada asap, tidak gempet-gempetan kayak naik bus way. Dan yg penting, tidak kena macet alias bebas macet, karena memiliki jalur sendiri. Desain taxi supermoderen ini dibuat di Inggris, rencananya tahun depan akan dioperasikan.

Untuk mengenalan, demonstrasi dilakukan di Museum Science Inggris di London. Pengunjung dipersilahkan mencoba kenyamanan taxi pribadi ini, mencoba sendiri dengan menekan tombol, dan duduk manis, maka taxi akan melaju mengantar anda sampai tujuan.

Profesor Martin Lowson adalah orang yang berada di belakang proyek taxi super moderen ini.

Wah..seandainya di Indonesia punya transportasi seperti ini, mungkin, banyak pemilik kendaraan pribadi pindah ke taxi nyaman ini.


Spoiler for silahkan gan:
ada videonya jg gan

0 Comments
No comments yet. Be the first to leave a comment !