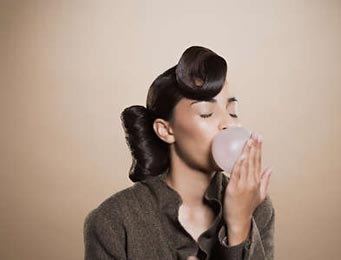 Jakarta
- Noda permen karet menempel di baju kesayangan Anda pasti sangat menyebalkan. Jangan buru-buru membuang baju tersebut dan menggantinya dengan yang baru. Karena ada cara jitu untuk menghilangkannya.
1.Jangan langsung menarik permen karet yang menempel. Segera letakkan es batu sesaat ketika baju Anda terkena permen karet. Permen karet yang mengeras akan lebih mudah untuk diambil.
2.Panaskan sisa-sisa permen karet yang tidak ikut terangkat dengan hair dryer. Hal ini bertujuan membuat sisa permen meleleh.
3.Pakailah plastik di tangan Anda saat mengangkat sisa permen karet tadi.
4.Tuang deterjen di daerah tersebut. Kemudian gosok dengan lap yang telah dibasahi
air hangat.
5.Terakhir cucilah pakaian tadi. Kemudian periksa kembali pakaian yang telah dicuci.
Apabila noda masih ada, ulangi kembali langkah di atas sampai noda permen benar-benar
hilang.

0 Comments
No comments yet. Be the first to leave a comment !